Australian Projects Book 2006
AUSTRALIAN NEW URBANISM
A GUIDE TO PROJECTS
(Second Edition  November 2006)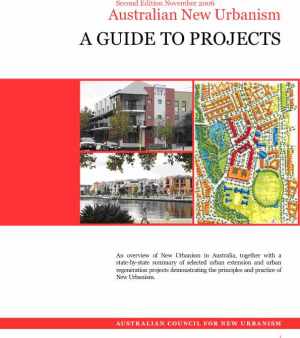 This book was produced to increase awareness of the growing trend towards New Urbanism in Australia, and the practitioners who work together to improve the quality and sustainability of our urbanism. It includes an overview of New Urbanism in Australia, as well as descriptions of eighty seven projects. The projects are diverse and include urban centre revitalisations, brownfield redevelopments, new mixed town centres, greenfield urban extensions and sustainable growth codes and strategic plans.
The Guide is organised as a state-by-state summary of projects. Each project page has a reference section on the developer, designers, project type/size, websites and contacts, and locality details. A project summary and key features are included, together with selected plans and illustrations. A key purpose of the Guide is to encourage interested practitioners, regulators and developers to visit the projects.
Many of the projects are 'hybrids', with only partial demonstration of New Urbanist projects. However, all represent significant steps forward in producing a denser, walkable mixed use urban form with a high quality public realm for Australian urban contexts.
Unfortunately printed copies of this book have sold out.  However, pdf files of the chapters covering projects in each state, as well as the book introduction can be downloaded here.